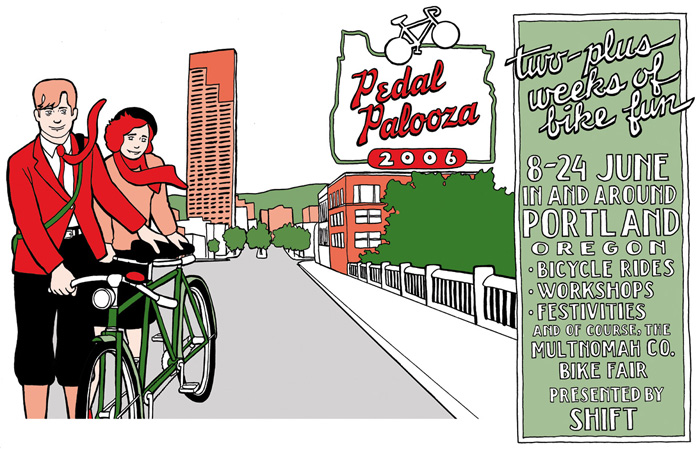 Recently Filmed By Bike founder Ayleen Crotty created a compilation zine about Portland's bike culture. This was in honor of twenty years of the event. She asked me to contribute, and I obliged, contributing a page about my interaction with the city's bike fun scene in the aughts and the creation of this here Urban Adventure League. It was fun to read the accounts of others, a trip down memory lane. The first decade of the twenty-first century is where Portland's modern bike culture scene coalesced: out of the ashes of Portland's ill-fated Critical Mass we created numerous bike rides and events, led by anyone who had the desire and drive to make it happen.
A bike culture based around "bike fun" is not a given in other cities. Outside of racing (whether road, MTB, or other), most American (and possibly Canadian cities) will have these two types of events:
Some sort of big family friendly bike ride where major streets are closed off and you get a t-shirt for participating
A "bike to work" day/week/month helmed by the local bike advocacy non-profit
These types of events are usually headed by an organization of some sort, and often a fee is collected. Outside of events where you have to wear a number and booths with bananas and bike mechanics, there could be a few other options: Perhaps there's a Critical Mass ride, or the night Bike Party version. Maybe an alleycat or two, a race born out of messenger culture. Coffee outsides are popping up here and there as well.
But the idea of a mass of DIY bike events is pretty uncommon. Portland is one of the few places where this happens regularly. Our scene jump-started in 2002 with Bike Summer. Bike Summer was born out of San Francisco Critical Mass, the originators of this anarchist bike ride. After a contentious few years in the late '90s, the principal "organizers" of the ride decided to create a summer bike fun celebration and create a month-long calendar of rides that weren't all just Critical Mass rides. After completing Bike Summer in the summer of 1999, the organizers decided it should be a traveling festival hosted by a different city each year. They passed the torch to Chicago for 2000, then Vancouver BC for 2001. A few Portland bike peeps attended the Terminal City celebration, and lobbied for it to be in Portland for 2002.
After we handed off Bike Summer to New York, our local organizers had so much fun that they wanted to do it again in 2003. So Mini-Bike Summer was created, which changed to Pedalpalooza for 2004. In those twenty years Portland's bike culture has expanded exponentially. I remember the early Pedalpalooza calendars (when it was two weeks in June) having maybe 50 to 75 events. Now Pedalpalooza is all summer long (June through August). Last year had 600 events! The majority of events are hosted by a single person unaffiliated with an organization. Think about that for a moment.
For the longest time Portland was the only city that decided to "keep the fun alive" after Bike Summer passed through, most of the other host cities were "one and done". Eventually other cities tried their hand at an annual summer bike festival, most notably Vancouver, B.C. When they got around to hosting their first Velopalooza in 2010, the town already had a thriving and throbbing bike fun scene: mutant bike gangs like the MC3, an all-female bike dance troupe The B:C:Clettes, social bike rides, a Critical Mass. Having their own bike festival seemed like a no-brainer, though it took a few bike folks to visit our Pedalpalooza in 2009 for the idea to take hold. (And it is ironic, since Pedalpalooza is directly tied to a few of our bike folks visiting their Bike Summer in 2001!)
By that point I had familiarized myself with Vancouver's awesome bike fun scene. I had visited several times since 2003 and got to know the people well. I even started doing comics and illustration for their lovely bike culture magazine Momentum. And I was pretty close with the B:C:Clettes, close enough that they invited me along on their Wheely Fun Bike Tour in July of 2008, where they rode around Vancouver Island giving performances. It was a lot of fun. There was a time where I was thinking about how I could possibly even live in Vancouver for a bit. This is of course difficult, as it's another country. But I did give it serious thought. 1
So I was excited to hear about Velopalooza. I don't think I had a chance to go to the inaugural event, as it overlapped with Pedalpalooza. But I headed up in 2011 as part of the Cross-Continent Tour, even hosting a bike touring workshop! I thought that Velopalooza was such a natural fit for such a bike-obsessed city.
But unfortunately that was not to be the case. Velopalooza seemed to do OK for a few years, but never really took off. The first fest in 2010 had 70 events spread over 10 days, a pretty healthy start. But by decade's end, the fest was limping by: just 29 events spread over 15 days in 2019.
The last couple years prevented something like Velopalooza from happening. I was excited to get the news that there would be a 2022 version. But that excitement quickly deflated when I saw the calendar: It's all July, and just 24 events at last count. Many of the rides are things that repeat throughout the year. Most of the Saturdays don't have any events. Compare that to this year's Pedalpalooza, with most Saturdays seeing north of two dozen events, more than all of Velopalooza.
What happened?
I thought that Velopalooza was destined for greatness. Vancouver already had good bones, so just add water and voila! A vibrant repeating festival. But building something that could sustain itself takes work. I'm guessing the initial volunteers departed after awhile, and there either is not a lot (or any) new blood to take over, or the keys are tied up with one or two lifers who don't want to let go, which can even be worse than no new blood. (Note: I just talked with someone in-the-know. Amy Walker, formerly of Momentum Magazine is one of this year's organizers. The decision to do this year's Velopalooza was at the last minute.) I know that a lot of the people I knew from the 00's scene weren't as active in Vancouver bike culture in the teens. Life happens, we grow older, interests change. But if for some reason the organizers of Pedalpalooza bow out or drop the ball next year, there's already a culture built around these rides that people would just keep it going somehow. That, um, critical mass was never reached in Vancouver.
I'm not trying to put down Vancouver, as I still love the city. But I offer it up as a cautionary tale.
And it's not just Vancouver. My friend who moved from Portland to Minneapolis tried to do a Pedalpalooza event, which only happened once. I know that London did a Pedalpalooza for a few years, but I haven't heard anything since. Calgary started a Cyclepalooza in 2011 (the first one happened right before I came through town) and there's still a year-round calendar. But there's no sign of a summer festival anymore.
Do I have any easy solutions? Not really. Having the idea is one thing, but perseverance and persistence is what it takes to have something like our Pedalpalooza year after year. Not only that, it's got to catch on in some way that new people dig it and are inspired to keep the ball rolling. Perhaps if Vancouver started their Velopalooza earlier, either right after their Bike Summer or some time in the mid-aughts, there would have been more momentum to make it successful. Now it's going to take a lot of work for them to have something that even resembles their first event from a dozen years ago.
But don't let all my negative talk discourage you if you want to do something like this! But conversely, don't expect other people to do the work if this is what you want.
1 One idea was to go to school at either the University of British Columbia or Simon Fraser University, the two major schools in the area.